Smile Reminder™ is a patient messaging software system that provides a secure and effective way for our practice to directly communicate with you by automatically sending personalized, real-time text messages on your cell phone and email addresses.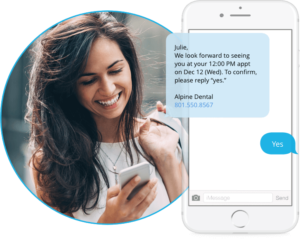 Smile Reminder messaging includes appointment reminders, follow-up care, recall, pre-med alerts and more.
If there are certain devices that you do not wish to receive the notifications on please let our staff know. We realize that your schedule and life are very busy and this is just our way of making your schedule a bit easier to manage.
When you receive a Smile Reminder message via an email address, you can easily confirm the appointment by clicking on the Confirm Now button. We will know that you've received your message and will mark your appointment as confirmed in our office software. You can also very easily place the appointment into your electronic calendar (Outlook, iCal) by simply clicking on the "Add to My Calendar" button.
Want to refer a friend to our office? Simply click on the button provided in the email at the bottom of the page.
If you receive a Smile Reminder message via text message on your cell phone, please call to confirm your appointment status.
You cannot cancel appointments via Smile Reminder. Please call 505-881-7337 if you are unable to make your appointment.
Want to let us know how we're doing? At the end of each appointment you will receive an email with a link to a review. We'd love to hear from you as it helps us to improve our services to you and your family.